Swiss Open Scuol 2022
Information / Contacts / Emergency
Safety: +41 79 784 82 26
CCSS: +41 79 381 60 10
Race Office: +41 79 784 82 26
General: Corsin Biert +41 76 561 06 59
Technical: Martin Scheel +41 79 44 55 163
Scoring: Jörg Ewald joerg.ewald@volirium.com
International Emergency Number 112
Ambulance 144
REGA (2nd Rescue Helicopter possibility) 1414
Police 117
Radio Frequency: will be communicated
Secure scene of incident
Alarm help (in grave cases: Rega 1414)
First aid
Who? What happend? Where? Special dangers?
Airway – Breathing – Circulation
Sunday, 26th June 2022, 6 to 8pm
Monday, 27th June 2022, 8 to 9am
Location: Headquarter (See Map)
Send an SMS with "para start so" (without quotes) to the CCSS number in order
to register with the CCSS (Cross Country Safety System).
Send an SMS with "para stop" (without quotes) to the CCSS number. Report back
has to be done within 15 minutes after landing!
You will get an automatic confirmation message after we received your message.
You have to send the SMS also if you decided not to fly.
You can add additional information after "para stop" to the message. For
example you could send "para stop Landed in Scuol".
Daily schedule
Monday June 27 –
Saturday July 2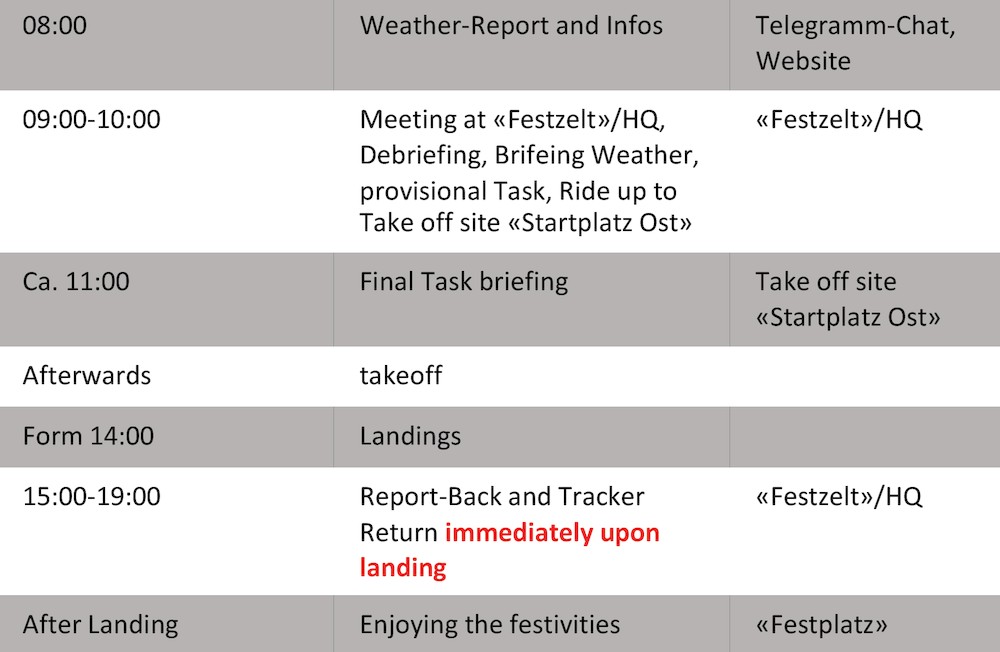 During your stay in Unterengadin you will get a guest card «Gästekarte» from your place of stay
or from the OK which allows you to travel free of charge between Martina and Brail
(see here for further information: https://www.engadin.com/de/gaestekarte).
If you land outside of this region, either a return transport will be organized or you will have to buy a train/bus ticket to the border of this region. For example: If you land in S-chanf, you have to buy a ticket only to Brail. You can get a refund for the purchased ticket at the OK (please show your ticket).